The Track-It™ Pressure/Temp and Vacuum/Temp Data Loggers are battery powered stand alone water tight compact data loggers that record up to 64,000 samples. They can be configured to record both Pressure and Temperature or Vacuum and Temperature or either parameter alone to maximize data storage space. The unit is easily configured using the included Track-It™ Software. Simply connect the included USB cable to the logger and an open USB port on your PC and the Track-It™ Software automatically identifies the logger. Configure the unit to start or stop recording immediately, at a predetermined time and date, or only when an alarm condition is sensed. The sample storage rate can be set from 1 sample every 2 seconds up to 1 sample every 24 hours. The on board data storage is non-volatile so data will not be lost in the event of a depleted battery.
The Track-It™ Pressure/Temperature Data Logger can be ordered in several pressure or vacuum ranges: 0-35, 0-150, 0-350, 0-550, 0-2000, 0-5800, 0-8700, and 0-14,500PSI or 0 to -380 and 0 to -760 Torr. The logger is packaged in a rugged submersible 316L stainless steel housing and has a standard 1/4" NPT fitting. The replaceable internal lithium battery has up to a 5 year life.
Features:
Programmable start/stop time and sample rates
Up to 64,000 data samples per recording session
Multiple alarm set points
Compact size - Rugged IP67 316L stainless steel package
USB Interface (cable included)
Powerful interactive Track-It Software package included
5 year battery life (battery included)
Wide temperature range 0 - 185F (-20 - 85C)
Available in 35, 150, 350, 550, 2000, 5800, 8700 and 14,500 PSI ranges
150% overrange protection
1/4" NPT male connection (1/2" NPT for 8700 and 14,500 ranges)
High accuracy and repeatability
Accurate internal clock (1 minute/year)
N.I.S.T. calibration certificate available
Track-It™ Software is a powerful Windows based software package that is included with every Track-It™ Data Logger. It allows for easy setup, retrieval, interpretation and export of the recorded data.Simply connect your Track-It™ data logger to an open USB port and begin communicating immediately. Point and click to select your sample interval, alarm set points, engineering units, start recording triggers and LCD Displays.

View a numerical data table or graphical representation of data readings relative to time. Use the graph tools such as zoom, cursor, min and max to examine and analyze the record. Track-It™ Software turns your PC into a real time data acquisition system by allowing you to stream graphical or tabular data directly to your PC (capability varies by model). Use the one click export function to automatically export stored data into an Excel spreadsheet.
Track-It™ Pressure/Temperature Data Logger with Hydrant Cap, Bleeder Valve in a carrying case
H-DL150: 2-1/2" NST Hydrant Pressure/Temp Logger 0-150 PSIA in Watertight, Airtight and Crush Resistant carrying case $599.99
H-DL350: 2-1/2" NST Hydrant Pressure/Temp Logger 0-350 PSIA in Watertight, Airtight and Crush Resistant carrying case $599.99
Data loggers with N.I.S.T. calibration certificate
H-DL150-CAL: 2-1/2" NST Hydrant Pressure/Temp Logger 0-150 PSIA in Watertight, Airtight and Crush Resistant carrying case $697.99
H-DL350-CAL: 2-1/2" NST Hydrant Pressure/Temp Logger 0-350 PSIA in Watertight, Airtight and Crush Resistant carrying case $697.99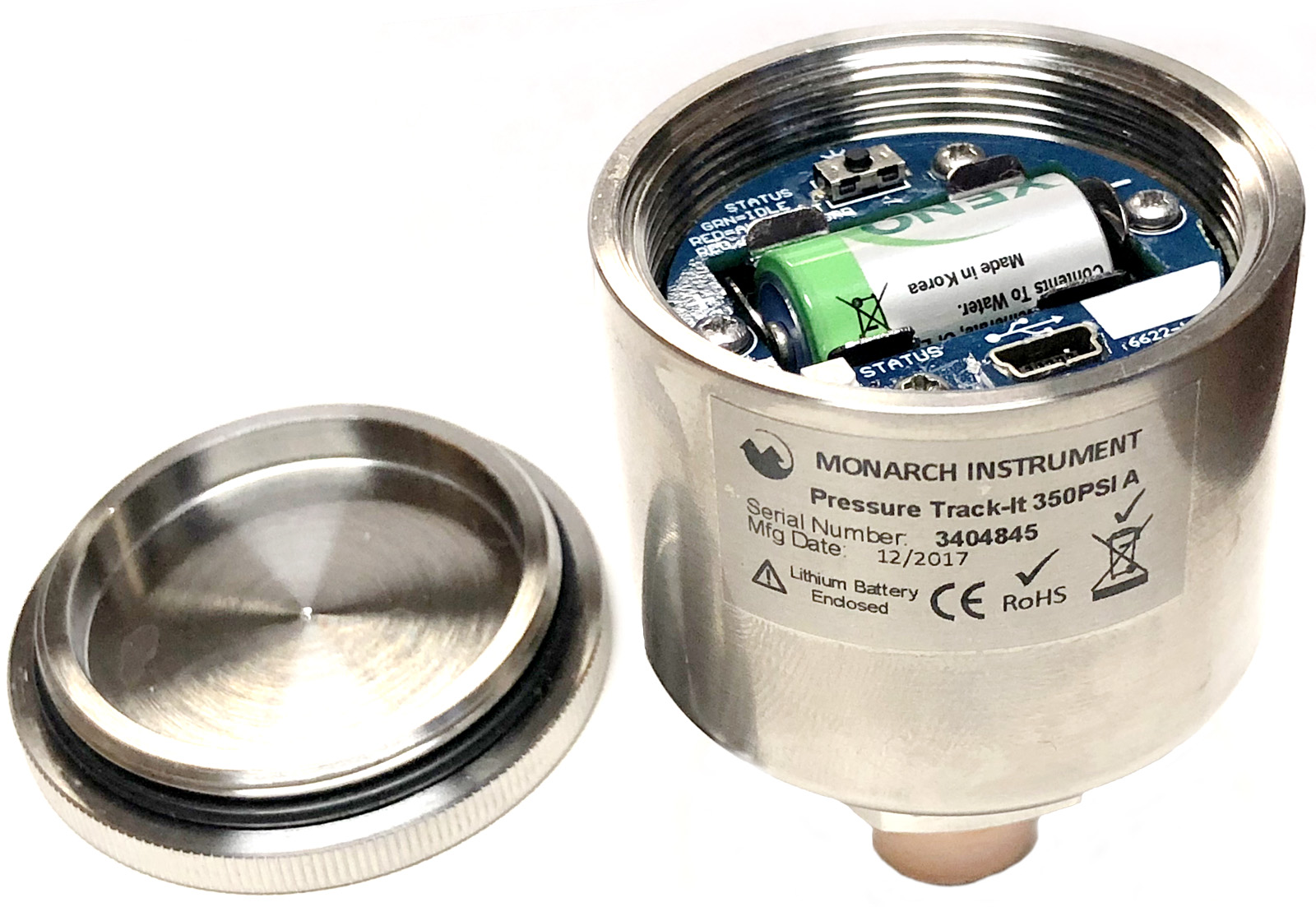 Data Loggers & accessories
H-5396-9902: Track-It Software on CD $25.00
H-5396-9912: Anti-Theft Locking Cover $69.00 (will secure the logger only)
HYD-FHD-L: Model PHL Hydrant Meter Locks are designed to easily secure hydrant meters and Caps quickly and effectively. Designed to be used with a Padlock $92.50
H-5396-0304: Track-It, 0-35 PSIA Pressure/Temp Logger $449.00
H-5396-0301: Track-It, 0-150 PSIA Pressure/Temp Logger $449.00
H-5396-0302: Track-It, 0-350 PSIA Pressure/Temp Logger $449.00
H-5396-0303: Track-It, 0-550 PSIA Pressure/Temp Logger $499.00
H-5396-0305: Track-It, 0-2000 PSIA Pressure/Temp Logger $499.00